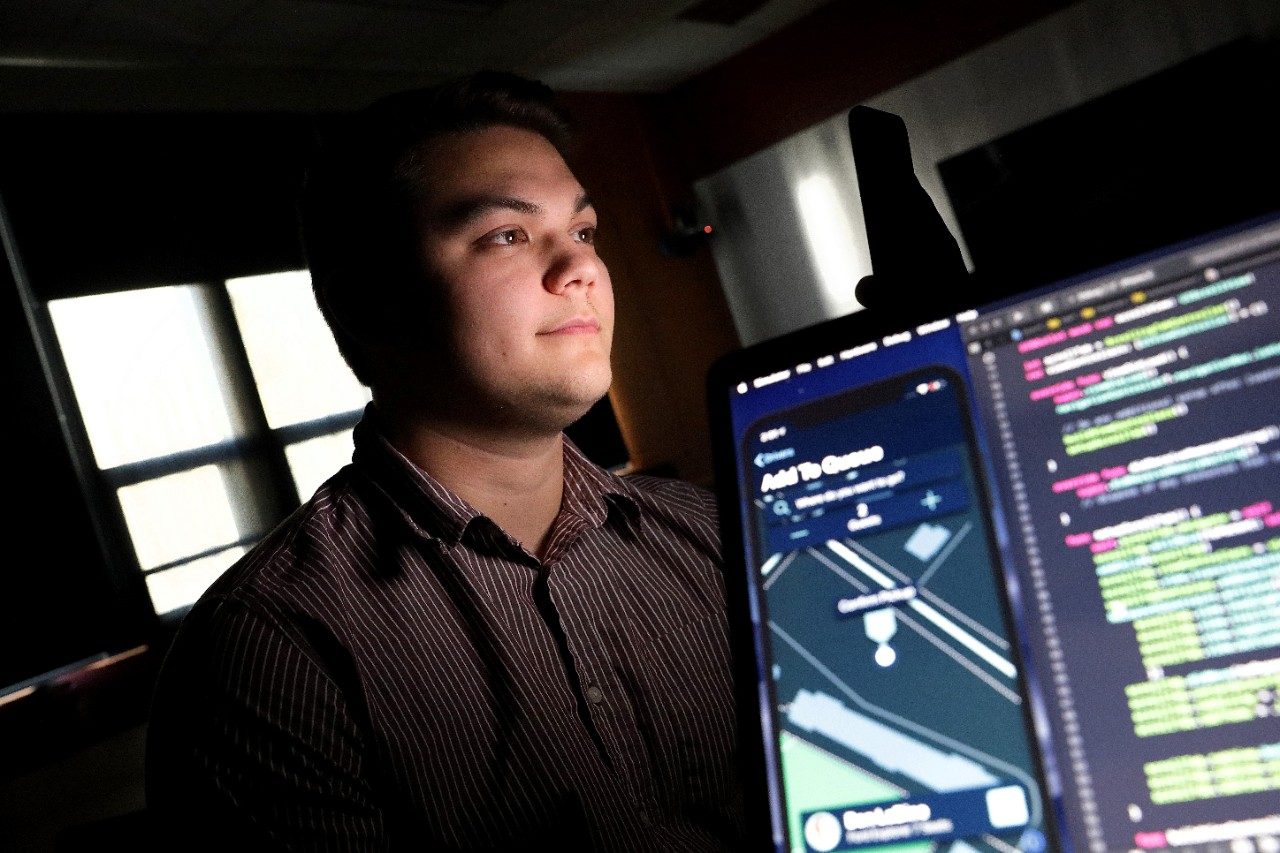 ---
As early as middle school, Matt Sanford, now a senior at Virginia Tech, remembers working on projects such as building websites or programming small circuits. A native of Richmond, Virginia, he recognized his continued interest in computer science through college.
By the time he was a sophomore, Sanford figured he might as well add computer science as his primary major to his already declared computer engineering major. "Computer science was something I had always been passionate about," said Sanford. "I knew that if I stuck with it, there would be a lot of opportunities for my future."
After realizing challenges his fraternity brothers faced in Phi Sigma Kappa, Sanford created a phone application called Drop A Pin (DAP). Serving as a designated driving app, "It shows [the driver] how many people are in line and keeps a record of when and where people got picked up and dropped off," said Sanford. "It's free for Virginia Tech students to use and there are around eight or nine organizations using it currently."
With the experience of creating a successful app under his belt, Sanford made the rounds at the Department of Computer Science career fairs his junior year. He landed an internship at a software engineering company, WillowTree, for two summers in Charlottesville, Virginia.
This accomplishment did not come easily to Sanford. Both of his grandmothers unexpectedly passed away before his sophomore year, a loss that left his GPA lower than he would have liked. However, with the help of faculty such as buy brand valium professors Kelli Karcher, Clifford Shaffer, and Ali Butt, Sanford gained knowledge that he believes set him apart from other candidates in internships and job interviews.
These experiences and instruction led Sanford to accepting an offer from Apple to work on their Apple Developers Tool team, where he will work on the tool he used to build DAP. Reflecting on his journey, Sanford said, "It's like I'm coming full circle."
–Written by Taylor Casarotti; a senior majoring in public relations and intern for the Department of Computer Science